Noobyweds is a Minecraft series featuring Cupquake and Red, it was started in August 2012. Originally a one-episode special, they enjoyed it so much that it became a series.Reds wonzie was changed with the dedesigen of changing every day. After taking a three month break starting January 2013, the series returned in April 2013, but ended in August 2013. The series was re-started as the current Minecraft series Cloud 9, with a new world and new mods.
Minecraft House
Edit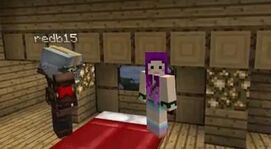 The house is a wooden multi-story house. The bottom floor has a living room and small kitchen. It also has a storage room. Above the storage room is a nether wart farm. Upstairs there is a basic bedroom with a large glass window, whilst outside of the house there is a glass walkway, an animal farm and a food farm.
The house is located on the edge of a mountain/plains biome with a jungle directly infront. It has been moved to a different world once in the series as they wanted new surroundings.
To the east (second location) there is a sand village and sand temple.
The Minecraft world seed is "-67942908050306696".  NOTE: This seed will only work in Minecraft 1.3.2.
Community content is available under
CC-BY-SA
unless otherwise noted.