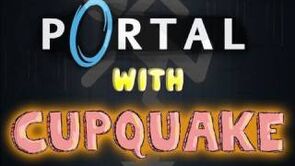 Portal was a the name of 3 series on iHasCupquake's channel that ran from April 16th, 2011 to August 3rd 2011. They showed Cupquake playing through the popular puzzle games Portal and Portal 2.
The first Portal series, showing Cupquake playing the original Portal game, lasted 9 episodes spanning from April 16th, 2011 to April 19th, 2011. Cupquake said she wanted to play the prequel to Portal 2, as her friend told her she would be cheating herself if she didn't. Cupquake also stated she wanted to beat the game quickly so she could move on to the already released Portal 2.
Portal 2 With Cupquake and Red
Edit
Portal 2 With Cupquake and Red or Portal 2 With Red and Cupquake was a series that showed Cupquake and her at-the-time boyfriend —now husband— Red playing Portal 2 in Co-op mode. The series ran 20 episodes spanning from April 19th, 2011 to May 9th, 2011. In the series Cupquake played the in-game robot P-body and Red played the in-game robot Atlas.
Portal 2
Edit
The third Portal series which showed Cupquake playing Portal 2 in single player mode ran 18 episodes from May 31st, 2011 to August 3rd, 2011. The first and most popular episode entitled "Chapter 1" received over 110,000 views.
Community content is available under
CC-BY-SA
unless otherwise noted.