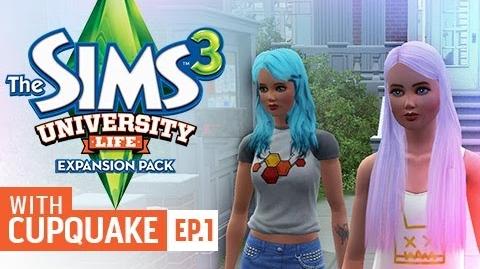 Sims 3 University Life
, later retitled 
Sims 3 Island Paradise
, The Sims 3: Island Paradise playthrough series created by
Cupquake
. The series followed the life of a mermaid couple named Lina and Luna Lovegood. The series premiered on May 11, 2013, as a sequel to 
Sims 3 with Cupquake
, and ran 65 episodes before being replaced by
Mystic Creatures
. The series ended on February 27, 2014.
In the episode "Looks Like We Made It", Lina and Luna graduate from their first year of college. Cupquake later extended the series and renamed it "Sims 3 Island Paradise" and gave the two girls a "vacation" in Isla Paradiso. They adopted a healthy cat who cupquake named "Navi". Cupquake long later adopted the healthy girl, Ariel.
In the episode "Moving Into Moonlight" of Mystic Creatures, it was announced that the Sims 3 Island Paradise series would be ending and the Lovegood family (except for Ariel) would be left behind in Isla Paradiso, while Ariel Lovegood would go on to live with her cousin, Flora Lucid, and her roomate, Lux Silvermoon, in Moonlight Falls.
Characters
Edit
Luna Lovegood - a rebel character with blue hair who studied Fine Arts at the Sims University. She is a mermaid with a Pink tail, and lives with her wife Lina Lovegood and their daughter Ariel. She has a blog about art. Luna loves art and often painted walls and driveways to show her art for everyone.
Lina Lovegood - the smarter and more average of the two main Sims, and has light pink tail to match her hair. She studied Science & Medicine at the Sims University, and lives with her wife Luna Lovegood and their daughter Ariel. She has a blog about nature and loves nature.
Ariel Lovegood - Luna and Lina's adopted daughter. She has red hair, and is an avid horse lover and rider. She gone on to live in moonlight falls with her cousin, and study equestrian. Ariel is mostly like Lina with a bat of Luna.
Maya Ocean - a close friend to Luna and Lina. Like them, she is also a mermaid with a light blue tail. She gave Luna mermaid kelp, leading to Luna and Lina's new life form of a mermaid.
Velvet Lovegood - Luna and Lina's second adopted cat in "Raising a Baby". In "Pink Kitty", She customized Link Lovegood and made him into a pink cat. In the episode "New Babysitter", She renamed him from Link, to Velvet.
Henry Lovegood - the cat of Luna and Lina, where he was adopted in the episode, "Baby Kitten". In "Worse Wedding Gift Ever", he was taken back to the shelter because of "bad care". 
Community content is available under
CC-BY-SA
unless otherwise noted.