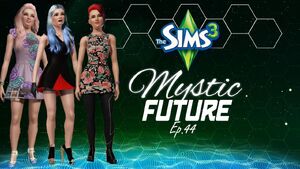 Mystic Creatures
, later retitled 
Mystic Future
, was a modded The Sims 3: Supernatural and Into the Future playthrough series created by
Cupquake
. The series began on March 3, 2014, and ran for 51 episodes before being replaced by
The Sims 4
. The series follows the lives of Lux Silvermoon, Flora Lucid, and Ariel Lovegood, all fictional characters that live in Moonlight Falls.
In the episode "Moving Into Moonlight," it was announced that the Sims 3 Island Paradise series would be ending and the Lovegood family (except for Ariel) would be left behind in Island Paradise, while Ariel Lovegood would go on to live with her cousin, Flora Lucid, and her roommate, Lux Silvermoon, in Moonlight Falls.
In the episode "Futuristic Makeover," Cupquake extended the series and renamed it "Mystic Future" where she had the whole household, except for Argus, travel to the future and start their brand new lives as residents of the futuristic city called Oasis Landing.
Characters
Edit
Lux Silvermoon - the roommate of Flora Lucid and Ariel Lovegood. She is a friendly witch Tiffany created in the episode "Creating a Sim". She has silver hair with light blue tips and a braid in back. Cupquake stated "Lux means light, and Lux is light inside and out." Her last name was chosen by viewers in the comment section to reflect her light personality.
Flora Lucid - the cousin of Ariel Lovegood, and is a fairy with silver wings and light-pink hair.She works in a small hut as a fortuneteller. One of her descendants is Eliseo Lucid.
Ariel Lovegood - Lina and Luna Lovegood's, adopted daughter. She was originally a character from Sims 3 Island Paradise, she came to Moonlight Falls to live with her cousin while studying equestrian.
Argus Brown - The ex-husband of Lux Silvermoon and the father of Lucien Salem Silvermoon. He is a werewolf and is currently living in the past.
Lucien Salem Silvermoon - The son of Lux Silvermoon and Argus Brown. He has inherited his father's werewolf destiny and is currently getting raised in the future.
Elisio Lucid - descendant of Flora Lucid.
Luna Silvermoon - the kitten adopted by Lux Silvermoon in the episode "Moving Into Moonlight". Cupquake stated she was named after the moon and Luna from Sims 3 Island Paradise. When Ariel, Lux and Flora moved too future, she was left in past.
Carnitas Lovegood - Ariel's light brown horse with a black mane and tail, black hooves, and a darker brown muzzle. In the episode "I Have a Boyfriend," Carnitas was purchased by Ariel at the stables, but she was first seen physically in "Ariel's Horse Carnitas."
Community content is available under
CC-BY-SA
unless otherwise noted.