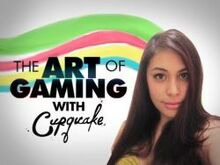 The Art of Gaming was a series hosted by Cupquake which ran 33 episodes from October 20, 2011 to March 11, 2012 on Machinima's main channel. The show consisted of Cupquake digitally painting wallpapers about gaming or Machinima gaming commentators.
All of the wallpapers created in this series are free to download from Cupquake's website here. Some of the most notable wallpapers created were about Minecraft, Portal 2, Skyrim, Binding of Isaac, and Angry Birds.
Many of the later episodes have been deleted which can be read more about in the article Machinima partnership and controversy. The show was known to take up much of Cupquake's time, which was a probable reason she decided to end the series.
Community content is available under
CC-BY-SA
unless otherwise noted.